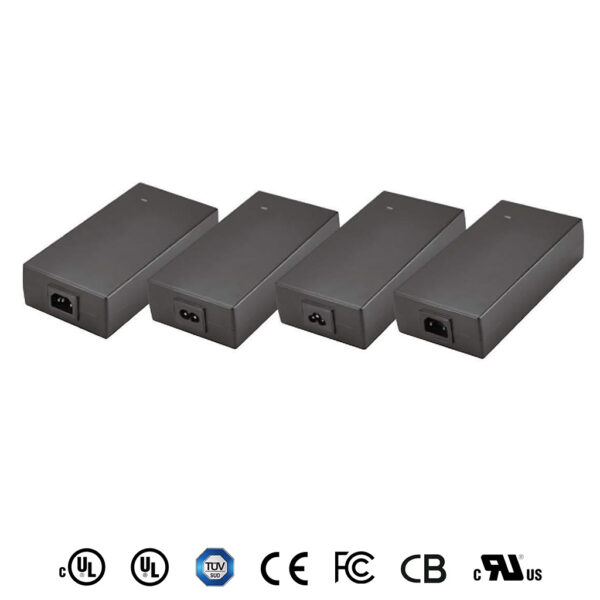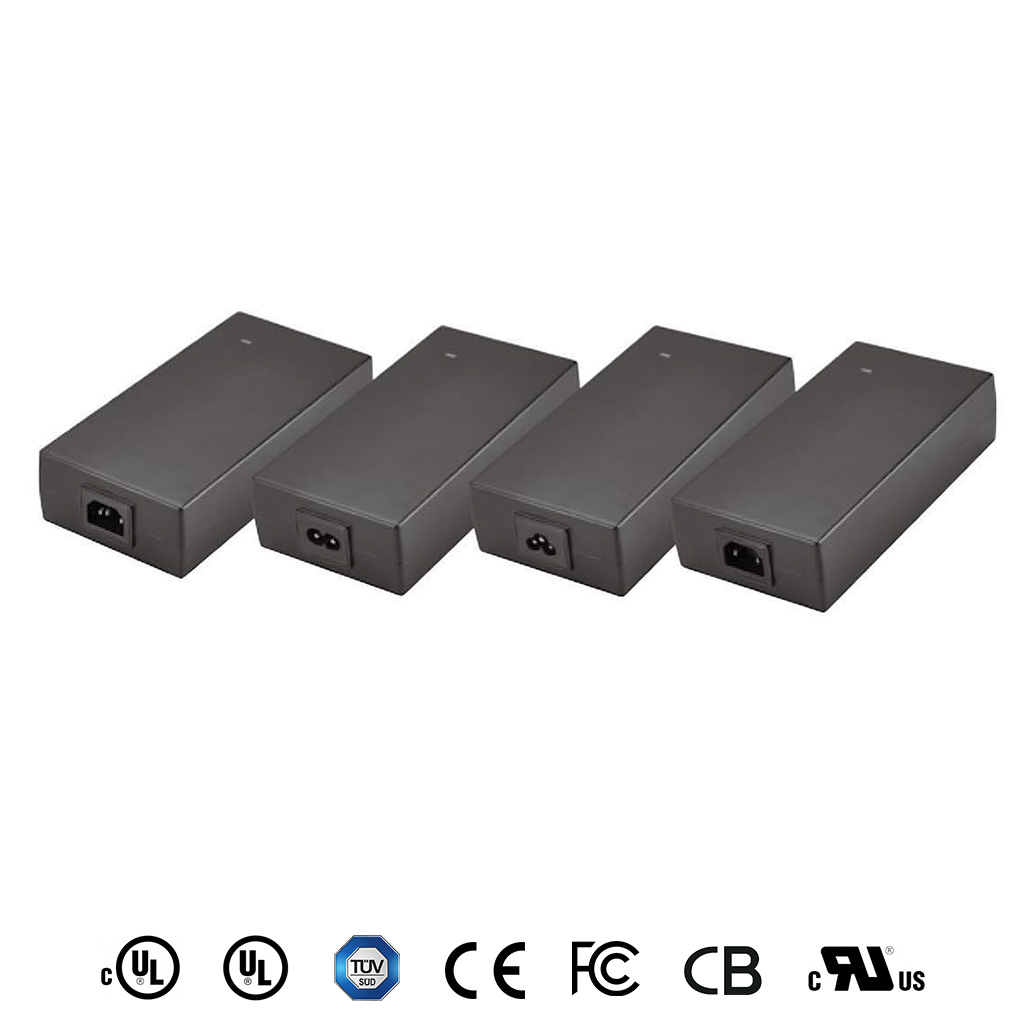 Medical External Power Supplies
FEATURES:
90-264 VAC input
Output Voltage Options from 5-54 VDC
UL/cUL 60601 3rd Edition Certified
Desktop 2 & 3 Pin AC input options
Efficiency Levels V & VI – CoC Tier 2 –
Large selection of standard output connectors
Special connectors, colors & cable lengths are all available at standard pricing and low MOQs
Description
Models
Data Sheets
Description
Jasper's Medical Power Supplies are available from 4.5W-310W, with both fixed and detachable I/O cords options. Standard and Custom configuration Medical IEC Adapters are also available. To view the list of plug options, please visit the Output Cable Plug Appendix Page by clicking the button below. Please contact us with any further information about your application so we can offer a solution.
| Model # (Click for data sheet) | Watts | Type | Output Voltage | Size (L x W x H) | Options | Safety Certifications | Get Quote |
| --- | --- | --- | --- | --- | --- | --- | --- |
| MW06 | 4.5-6W Max | Wall Mount | 5-12V | 2 sizes (vertical and horizontal) | USB, SR; AC Plug: USA, EU, UK | UL/cUL, TUV, CB, CE, FCC | |
| MI06 | 4.5-6W Max | Interchangeable AC Plug | 5-12V | 57.2 x 39 x 34 mm | USB, SR; AC Plug: USA, China, EU, UK, SAA, South Africa | UL/cUL, TUV, CB, CE, FCC | |
| MW12 | 12W | Wall Mount | 5-24V | 2 sizes (vertical & horizontal) | USB, SR; AC Plug: USA, EU, UK | UL/cUL, TUV, CB, CE, FCC | |
| MI12 | 12W | Interchangeable AC Plug | 5-24V | 57.2 x 39 x 34mm | USB, SR; AC Plug: USA, China, EU, UK, SAA, South Africa | UL/cUL, TUV, CB, CE, FCC | |
| HEMG24 | 20W | Desktop Adapter | 5-24V | 1.27 x 2.28 x 4.3" | | UL, CB, CE | |
| MW24 | 15-24W Max | Wall Mount | 5-48V | 2 sizes (vertical & horizontal) | SR; AC Plug: USA, CHINA, EU, UK, SAA, | UL/cUL, TUV, CB, CE, FCC | |
| MI24 | 15-24W Max | Interchangeable AC Plug | 5-48V | 57.2 x 39 x 34 mm | SR; AC Plug: USA, China, EU, UK, SAA, South Africa | UL/cUL, TUV, CB, CE, FCC | |
| MW36 | 16-36W Max | Wall Mount | 5-48V | 76 x 43 x 30 mm | AC Plug: USA, EU, UK, SAA | UL/cUL, TUV, CB, CE, FCC | |
| MI36 | 16-36W Max | Interchangeable AC Plug | 5-48V | 73.6 x 43 x 32.5 mm | AC Plug: USA, China, EU, UK, SAA, South Africa | UL/cUL, TUV, CB, CE, FCC | |
| MD36 | 16-36W Max | Desktop Adapter | 5-48V | 98 x 45.5 x 31.2 mm | Inlet: C14, C8, C6, C18 | UL, CE, FCC | |
| MW36-5 | 15-36W Max | Wall Mount | 9-15V | 99.5 x 45.5 x 31 mm | AC Plug: US Type 2PIN/3PIN | UL, CE, FCC | |
| MI36-5 | 15-36W Max | Interchangeable AC Plug | 9-15V | 98.5 x 45.5 x 32.8 mm | AC Plug: USA, EU, UK, SAA | UL, CE, FCC | |
| MD36-5 | 15-36W Max | Desktop Adapter | 9-15V | 98 x 45 x 31mm | Inlet: C14, C8, C6 | UL, CE, FCC | |
| HEMG56 | 50W | Desktop Adapter | 12-48V | 1.25 x 2.28 x 4.3" | | UL, CB, CE | |
| MD55 | 42-55W Max | Desktop Adapter | 13-24V | 120 x 60 x 34.8 mm | Inlet: C14, C8 | UL, TUV, CB, CE, FCC | |
| HEMG76 | 70W | Desktop Adapter | 12-48V | 1.25 x 2.4 x 4.9" in. | | UL, CB, CE | |
| MD72-22 | 25-72W Max | Desktop Adapter | 5-56V | 113 x 49 x 35 mm | Inlet: C14, C8, C6, C18 | UL, TUV, CB, CE, FCC | |
| MD72-4 | 60-72W max | Desktop Adapter | 12-24V | 132 x 54 x 31 mm | Inlet: C14, C8, C6 | UL, TUV, CB, CE, FCC | |
| HEMG106G | 100W | Desktop Adapter | 12-48V | 1.3 x 2.36 x 5.9" in. | | UL, CB, CE | |
| MD100-6 | 70-100W Max | Desktop Adapter | 12-24V | 151.45 x 58.8 x 34.2 mm | Inlet: C14, C8, C6, C18 | Meets UL | |
| MD100-10 | 80-100W Max | Desktop Adapter | 12-56V | 132.8 x 58.8 x 33.4 mm (C8, C6); 136.5 x 58.8 x 34 mm (C14, C18) | Inlet: C14, C8, C6, C18 | UL, TUV, CB, CE, FCC | |
| MD130-11 | 80-130W Max | Desktop Adapter | 12-48V | 137 x 59 x 34 mm | Inlet: C14, C8, C6, C18 | UL, TUV, CB, CE, FCC | |
| MD130-6 | 100-130W Max | Desktop Adapter | 12-56V | 179 x 64.2 x 40mm | Inlet: C14, C8, C6 | UL, TUV, CB, CE, FCC | |
| HEMG152G | 150W | Desktop Adapter | 12-48V | 1.3 x 2.36 x 5.9" in. | | UL, CB, CE | |
| MD180 | 130-180W Max | Desktop Adapter | 12-56V | 179 x 65 x 40 mm | Inlet: C14, C8, C6, C18 | UL, TUV, CB, CE, FCC | |
| HEMP252G | 250W | Desktop Adapter | 12-48V | 1.9 x 3.7 x 7.4" in. | | cRLus, CB, RMR | |
| MD250 | 160-250W Max | Desktop Adapter | 12-56V | 182 x 84.5 x 46 mm | Inlet: C14, C8, C6, C18 | UL, TUV, Cb, CE, FCC | |
| MD310 | 230-310W Max | Desktop Adapter | 12-56V | 197.7 x 102 x 51 mm | Inlet: C14, C8, C6, C18 | UL, TUV, CB, CE, FCC | |